By Ken Zurski
In August 1919, at Saratoga Race Course in upstate New York, a horse named Upset shockingly defeated heavy favorite Man o' War in the Sanford Memorial. It was as they say, a race for the ages, not just because Upset won, but because Man o' War lost.
It's easy to see why everyone was so surprised. The great Man o' War, nicknamed "Big Red," was undefeated and dominated nearly every race he entered. "A wonder horse" according to one newspaper writer. Others called him a "speed miracle" and in class and stature: "peerless."
And then came the Sanford.
A record crowd of 20-thousand witnessed the race, which turned into a thrilling stretch duel between three horses.  "On the last part of the turn into the stretch, Man o' War took third position, about two lengths back of Upset," the New York Times noted.  The horse in the lead was a speedster named Golden Broom.
It got even more exciting from there. "A few strides down the stretch Golden Broom suddenly gave up, and Upset ran past him. In another instant Man o' War had dashed by his chestnut rival and it became a question whether Upset could last to win."
He did.
While the finish was dramatic enough, let's backtrack to the start of the race where no gate was used as it is today. Horses just waited at a tape line for a signal. Man o' War was reportedly backing up when the other horses took off. He was "almost left at the post," according to the Louisville Courier-Journal.
Man o' War made a mad dash for home, but according to the Times had too many obstacles to overcome: "What made the race of Man o' War so impressive was the fact that he came from so far behind and that also he conceded fifteen pounds to Upset."
And who was Upset?
As it turned out, Upset was a pretty good race horse. In his last race, the prestigious Travers Stakes, also at Saratoga, Upset finished second.  But against Man o' War, as in six previous races with the great stallion, Upset was, as was as every other horse in the field, a big loser.
So while not the longest shot in the Sanford, Upset did go off at 8-1 odds. By today's standard, that's called an overlay (higher than expected odds) for a horse that ran well in previous races. But against Man o' 'War, a big favorite, it was quite the opposite.
After all, who would be foolish enough to bet against "Big Red"?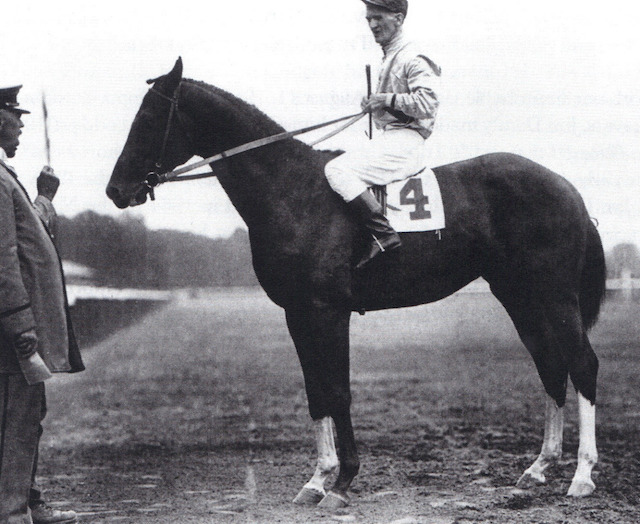 Upset, the horse, was named after the word's official definition of "disappointment" or "worry."  Today, the use of the word in context is often attributed – perhaps unfairly – to the 1919 race and horse.
Some historians argue the use of the word in horse racing dates back to 1877 and the 1919 race and Upset's victory is inconsequential. Regardless, the sports world adopted the word to describe a team or individual whose victory is unexpected, especially against a formidable opponent. 
As for Man o' War, while his unblemished record was forever tarnished ("It was a crime he was beaten," the New York Herald blared), he still goes down as one of the greatest race horses of all time.
Although the owners of Upset had no idea their horse would be remembered in such a way, the name choice seemed to follow a pattern. Apparently they liked horses with negative connotations, including Upset's stable mate, the Kentucky Derby winning filly named Regret.