By Ken Zurski
Seven years before President John F. Kennedy announced intentions to put a man on the moon, Walt Disney, in his own magical way, was doing just that. Not physically of course, but imaginatively.
Disney-style.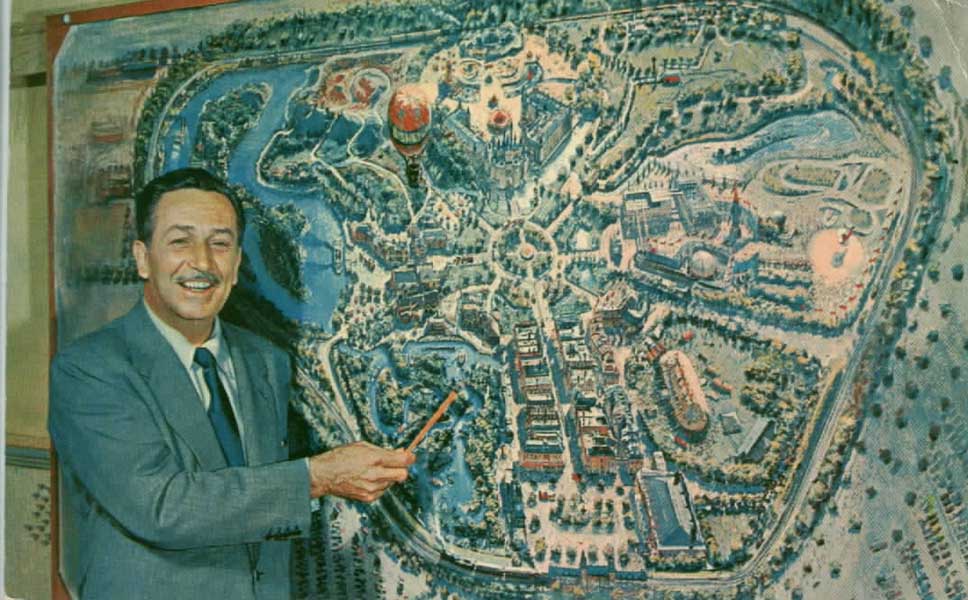 It started in July of 1955, when Disney's visionary theme park Disneyland opened in Anaheim, California. Inside an area dubbed "Tomorrowland" was an 80-foot rocket named the "Moonliner." It's purpose was for show, but it's intent was far-reaching. This was "tomorrow's" transport and the goal: space travel.
The exhibit was sponsored by Trans World Airline (TWA) with a promise that the air carrier "would send passengers to the moon in 30 years" [That would be 1985 back then]. Rocketing along at flight speeds of 172 mph, TWA claimed the trip would take about eight hours. Next to the rocket was a multi-sphere building and a sign that read: "Rocket to the Moon."
At the base of the rocket was an explanation: "Stabilized in flight by gyroscopes, it would be controlled by automatic pilots and magnetic tapes. Landing tail-first, no air-foils or wings would be necessary, its vertical descent controlled by its jets. The 3 retractable landing legs would be equipped with shock absorbers. Launching and landing would be done over a "firing center" to confine and lead off the superheated exhaust gases."
Inside "Rocket to the Moon," thanks to a projection screen both on the ceiling and on the floor, park guests could experience this flight themselves – or at least a simulation of it. "You don't actually land on the Moon, but you get to fly around the back side of the Moon," was the ride's description. "Along the way, you learn interesting facts about the Moon and the planets. Soon you're heading back to Earth. After your craft turns around, you see your destination on the floor screen. Prepare to land." The total duration of the ride was about ten minutes.
Disney himself explained it this way: "Kids and grown-ups too can take a trip to the moon from here. Well, at least they can board a passenger rocket and have all the thrills of such a trip – and in accord with the latest scientific theories on interplanetary travel."
Yes, "scientific theories," is how Disney put it in 1955.
He added: "Timid souls who don't care to risk outer space can peer at the U.S. from an inner space, man-made satellite orbiting 500 Disney miles above the earth."
In 1961, TWA dropped its sponsorship and Douglas Aircraft took over the"Moonliner." The rocket was repainted to represent Douglas Aircraft's color and brand. It lasted until 1966, when it was shut down and the building demolished. By this time the prospects of a moon flight was in reach. "We choose to go to the moon in this decade and do the other things," President Kennedy famously said in September of 1962, "not because they are easy, but because they are hard."
In 1967, the ride was rebuilt, adding more amphitheater rooms and more seating. A pre-show lobby was redesigned and featured the park's animatronic figures. Gone was the "Moonliner" rocket, or as one Disney historian described: "It had been scrapped."
The exhibit was given a new name: "Mission to the Moon."
Then in July 1969, millions of Americans watched as a man walked on the moon. "One small step for man, one giant leap for mankind," astronaut Neil Armstrong proudly proclaimed upon making the first footprint. Suddenly, Disney's futuristic moon ride was no longer "tomorrow's" fantasy.
"First Think. Second, dream. Third, believe. And finally, dare," Disney once said, although he wouldn't live long enough to witness man's first flight to the lunar surface. He died in 1966 at the age of 65.
The ride stayed open through all six manned Apollo Missions. Finally, in 1975, the name changed again. This time passengers were still going into space, but now they would travel further than the moon and certainly farther than any man so far.
"Mission to Mars" opened in March of 1975.
The ride closed for good in 1992.