By Ken Zurski
In the fall of 1927, Ruth Elder, a dental assistant from Lakeland, Florida, attempted to become the first woman to complete a transatlantic flight from New York to Paris. "When [Charles] Lindbergh reached Paris (in May)," the 23-year-old Elder said announcing her intentions, "I made up my mind that I would be the first woman to make the trip."
But unlike Lindy, who was an experienced pilot, Elder admitted having little acquaintance with airplanes.  She was however an aspiring model and actress and if the flight helped her career, she exclaimed, so be it.
As expected, Elder's daring-do was met with skepticism, even ridicule. "Men in the summer should strive to equal Lindbergh. Women should stay at home," The Irish News snidely advised. Even Lindbergh, himself, without naming names, warned against dangerous missions without purpose.
Despite this, Elder had no reservations.  "I was determined to go as a co-pilot, not a passenger," she vowed. In Florida, she took lessons from an instructor named George Haldeman. Then on Tuesday, October 11, 1927, Elder and Haldeman took off from New York's Roosevelt Field in a specially built Stinson 'Detroiter' monoplane named American Girl.
Unlike Lindbergh, who became internationally famous after his successful flight, Elder's popularity began the moment she announced her plan. Pretty with an infectious smile and a personality to match , Elder's story and picture plastered the papers. Brightly colored scarfs she wore in her hair were mimicked by young girls who called them "Ruth Ribbons."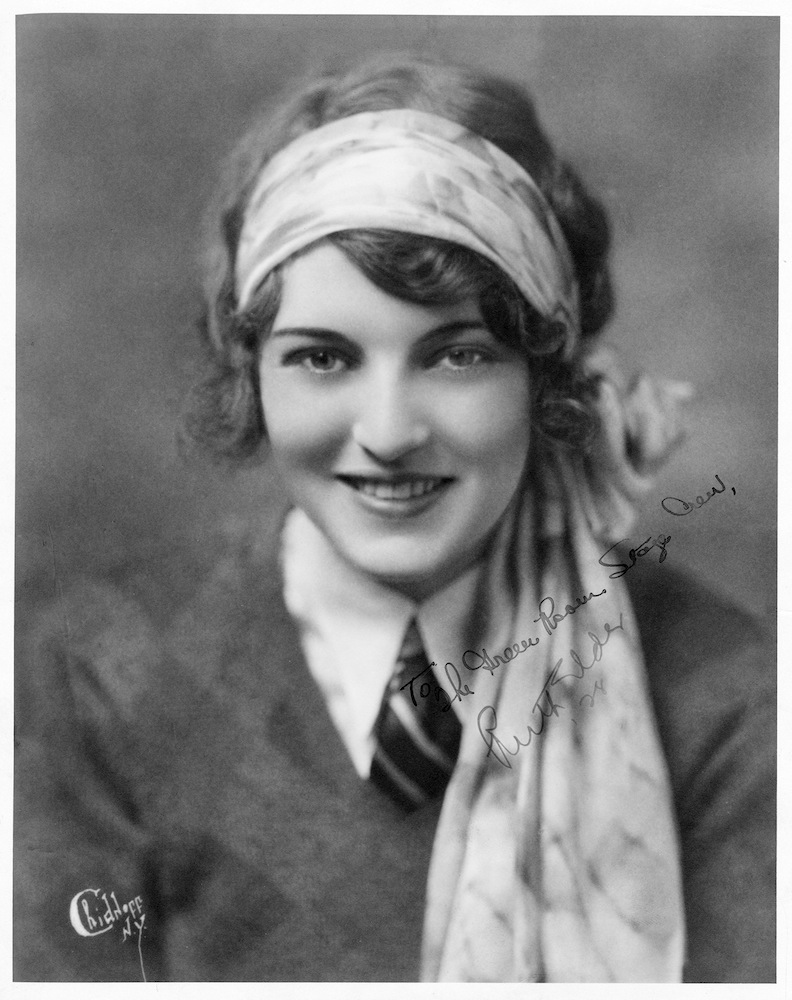 To a hungry press she was also a willing participant.  The instant hero Lindbergh was a challenge: shy, a bit aloof, and often irritated by all the attention. Elder relished it. She just hadn't accomplished anything yet.  On that October day at Roosevelt Field, the press was there to watch her give it a go.
"Well here goes nothing, that may turn up something," Elder thought to herself as the "American Girl's" wheels lifted from the ground.
Thirty six hours later, with over 2,000 miles logged and just a few hours short of Paris, the flight was over.
Caught in a sleet storm and taking on ice, the two pilots ditched the reserve fuel to lighten the load. But when an oil pipe busted, there was no other choice. The ocean would be their landing strip.
Around the same time, in Paris, at the Le Bouget airport, a smattering of press and a few well-wishers gathered for the welcoming party. Elder's plane was late and her fate, sent by dispatches around the world, was unknown. "Last seen 500 out at sea," the stories read.
The American Girl was missing.
In the Atlantic, however, Captain Goos of the Dutch tanker Barendrecht noticed a plane in distress: "She came rapidly up to us and flying over the ship threw down two messages." One ended up on the deck.  "How far are we from land and which way?" was the inscription. It was signed: Ruth Elder.
Several minutes later, the plane landed in the water next to the ship.
Soon enough the press got a telegram:  "We are safe," it read.