History
By Ken Zurski
The Nimrod Expedition despite its name was not a mission for dummies. Led by British explorer and Antarctic specialist Ernest Shackleton , the mission set off in January of 1909 with the objective of becoming the first team to reach the South Pole. That didn't happen, but they did get closer to the pole than anyone else, just under 100 miles.
Basically they were all "nimrods," like the expedition name would suggest, but not in the way you think.
That's because at the time, the word "nimrod" represented something different than it does today. Strength and courage was its bent. A nimrod basically was held in high regard. The name demanded respect, not jeers.
The polar expedition itself is named for Shackleton's hand picked ship, the Nimrod, a reference to Nimrod, the biblical figure and "mighty hunter before the Lord" from the Book of Genesis. Nimrod was an older boat and needed work, but Shackleton had little recourse with limited funds. He would eventually praise the small schooner as "sturdy" and "reliable."
Nimrod was not an uncommon moniker. In the mid 19th century, financier Cornelius Vanderbilt named a steamboat Nimrod to compete with other commuter boats on New York's Hudson River. Befitting his reputation, Vanderbilt demanded the Nimrod be stronger and faster than the others. No doubt the naming of the ship reflected this too.
And in 1899, composer Edward Elgar wrote a symphonic piece that had 14 variations each written for or about a personal acquaintance.
The ninth variation was titled Nimrod. "An amusing piece," Elgar said referring to his friend and subject, August Johannes Jagear, a music publisher and accomplished violinist. Rather than a slight, however, Elgar's piece was a compliment.  Jäger in German meant "hunter."
Then in 1940, thanks to cartoon character named Bugs Bunny, the meaning of the word changed forever.
During a short titled "A Wild Hare," Bugs called his nemesis Elmer Fudd a "poor little nimrod," a reference to Fudd's lack of skills as a hunter. Bugs sarcasm was evident, but most children didn't get it. Nimrod, the word, soon became synonymous with a bumbling fool, like Fudd's character.
Today, the Merriam-Webster Dictionary lists the word "nimrod" as slang for "idiot" or "jerk."
That may have been the implication, but certainly not the description, of Shackleton and his crew. But those who wished to board the Nimrod, some might say, were playing a fools game.
Shackleton didn't hide the discomforts and dangers of the mission when he advertised for a team of men . "A hazardous journey," he warned, with "low, wages, bitter cold, long hours of complete darkness. If they made it back, which was "doubtful," Shackleton implied, "honor and recognition" would await them upon return.
Basically, only Nimrod-types need apply, he implored.
Good thing Bugs Bunny wasn't around to dissuade them.
By Ken Zurski
At the first light of dawn on Christmas Day, 1914, only five months after the outbreak of war in Europe, a group of weary German soldiers emerged from their trenches and approached the Allied forces across an area between them known as no-man's-land.
"Merry Christmas," the Germans called out in their enemies native tongue.
At first, the Allied soldiers feared it was a trick, but seeing the Germans unarmed they climbed out of their trenches and shook hands with the enemy soldiers.
"I think I have seen today one of the most extraordinary sights that anyone has ever seen," British Captain A.D. Chater later wrote to his mother. "We were just going to fire on them when we saw they had no rifles, so one of our men went to meet them and in about two minutes the ground between the two lines of trenches was swarming with men and officers of both sides, shaking hands and wishing each other a happy Christmas."
The men exchanged presents of cigarettes and rations and sang carols and songs. "First the Germans would sing one of their carols and then we would sing one of ours," recalled another British soldier named Stephen Lovell. "When we started up "O Come, All Ye Faithful," the Germans immediately joined in singing the same hymn to the Latin words Adeste Fideles. And I thought, well, this is a most extraordinary thing — two nations singing the same carol in the middle of a war." There was even a documented case of soldiers from opposing sides playing a good-natured game of soccer.
Captain Chater quickly realized his adversaries held the same concerns and thoughts as his comrades. "From what I gathered most of them would be glad to get home again as we should," he wrote. "We exchanged cigarettes and autographs, and some more people took photos."
On the German side, sentiments were similar. "What I had still believed to be madness several hours ago I could see now with my own eyes," recounted German soldier Josef Wenzl. "One Englishman, who was joined soon by another, came towards us until he was more than halfway towards our trenches — by which point some of our people had already approached them. And so Bavarians and English, until then the greatest of enemies, shook hands, talked and exchanged items."
Some soldiers used this short-lived ceasefire for a more somber task: the retrieval of the bodies of fellow combatants who had fallen within the no-man's land between the lines.
But the fighting would continue once the brief respite ended. Each man knew it. They faced a court martial or worse if they refused.
"This extraordinary truce has been quite impromptu," Chater's letter continued. "There was no previous arrangement and of course it had been decided that there was not to be any cessation of hostilities." Chater jokingly suggested the goodwill may continue after a week. "We are, at any rate having another truce on New Year's Day, as the Germans want to see how the photos come out!"
Elsewhere the war raged on.  Even on that day of December 25 1914, a reported 149 British troops were killed by enemy fire.
On one battlefield  however, there was a "Christmas truce," as it is often called.
A single star stood still in the sky directly above," Wenzl recalled about that day, "and was interpreted by many as a special sign."
(Some text reprinted from History.com "Christmas Truce of 1914")
By Ken Zurski
"The Christmas Legend" is a short story written in the mid-nineteenth century by a Philadelphia missionary named James Rees. It tells the tale of a destitute American family that receives an unexpected visit from a couple of strangers on Christmas Eve. The constructive narrative sets up a deep exploration of family, loss and forgiveness; a classic Christmas formula.  But the story itself is not widely known. In fact it would likely be completely forgotten had it not been for one word- "wife." Today, it is cited as being the first time Santa Claus was associated with a spouse.  It literately introduced the character we know now as Mrs. Claus.
Published in 1849, "The Christmas Legend" was part of a collection of 29 short stories written by Rees and compiled under the title, "Mysteries of City Life, or Stray Leaves from the World's Book." Each story is cleverly presented to represent the dissimilarity of many leaf types. For example, the maple leaf, Rees writes, is "golden and rich" and presents a sunnier disposition, while another like the gum tree leaf has a "bloody hue" and "stands fit emblem of the tragic muse." He likens authors after the "forest trees" which "send forth their leaves unto the world."
"And by what emblem shall we appear amongst those clustering trees," Rees explains. "Let us see – Ah! The Ash Tree leaves are like ours, humble and plain to see, but hiding the silver underneath."
In "The Christmas Legend," Rees uses the spirit of the holiday to emphasis this point.
Here is the abbreviated story…
A family of four, mother and father, daughter and son, are sitting near the fireplace on Christmas Eve. The two children, especially the daughter, wonders if she should hang the stockings for Kris Kringle to come. But her mother raises doubt. There are more important things in life than earthly possessions, she states. "Poverty keeps from the humble door all the bright things of the earth, except virtue, truth and religion, these are more of heaven and earth, and are the poor man's friend in time of adversity."
"I thought that Santa Claus or Kris Kringle loved all those who are good, and haven't I been good?" the daughter asks confused.
The mother tells her to leave the stocking up. "Customs at least should be observed, and perhaps the young heart may not be disappointed."
The father is more introspective. He anguishes over a lost family member, the eldest child, another daughter who apparently ran away with a "dissipated" man seven years before and hasn't been seen or heard from since.
Then there is a knock on the door.
Two strangers appear out of the night, an elderly couple carrying a bundle with "all their worldly wealth," Rees writes. They ask how far away they are from the city and the father tells them it is "two miles."
"Two miles?" the stranger says sadly, "we will not be able to reach it tonight. My dear wife is nearly tired out. We have traveled far today."
The father invites them in and offers his best bed for them to rest. The strangers inquire if this is their whole family. "No. No," the father says, "we had one other – a daughter."
"Dead; Alas we all must die," the old woman responds.
"Dead to us, but not to the world," the man answers. "But let us speak of her no more. Here is some bread and cheese, it is all poverty has to offer, and to it you are heartily welcome."
There is a silent pause, then the sound of cheerful merriment, music and laughter, is heard through the open windows and door. It's their rich landlord, the father explains, mocking the poor. The old man interjects. "Ah, sir, human nature is a mystery, this is one of the enigmas, and can only be explained when the secrets of the hearts be known."
The next morning, Christmas Day, the family awakes to find their small room filled with presents: books and games and toys. "O Father, Kris Kringle has been here," the little girl says excitedly. "I am so happy."
Here Rees as the narrator sets up the last part or moral of the story. "There are moments when the doors of memory and the bright sunshine of hope make the future all clear," he writes. "Sorrow is not eternal; it has its changes, its stops; its antidote; they came in the moment of trial and – Presto! The whole scene of life is venerated in the pleasing colors of fancy."
And that's when something totally unexpected occurs. The old couple reappears to the family not as as they came, but as a vibrant young couple. The children recoil from fright, but the parents are curious. "How is this?" the father asks. "Why these disguises?"
"Hush, sir," the once old man says laughing. "This is Christmas morn and we now appear to you not as Santa Claus and his wife, but as we are, the mere actors of this pleasing farce."
The couple recognizes the old woman's new face. It's their long lost daughter. The girl hugs her mother, but the father is more skeptical, angry and weary of atonement.  He lashes out at the girl as she approaches him. "Stand back!", he shouts, then chastises the man who stands with her as a "paramour." She begs him to reconsider. "No Father he is my kind and affectionate husband."
"Ah, husband," the father replies.  He reaches for his daughter. They embrace.
Rees goes on to explain the girl ran away because she was "young and foolish" but loved the man who was forbidden from her home. They left America for England where her new husband became heir to a large estate. She sent letters home, but they were never received. Now she had returned back to her family on Christmas Day. A gift of love and hope. "Can you forgive me?" she asks.
"Say no more, all is forgotten. All is forgiven," the father tells her.
Even though it is thinly defined, the mention of Santa Claus's wife in "The Christmas Legend" is widely considered the first ever to appear in print.  Two years later in 1851, the name Mrs. Santa Claus would be mentioned again in a story published in the Yale Literary Magazine. History tells the rest. 
Today Mrs. Claus is considered a kindly old woman who helps her husband tend to his colds, stitches his clothes, and feeds his "round belly."
"There are many interesting facts both historic and fabulous connected with the ceremonies, customs and superstitions of this day [Christmas], which if collected together today would make a curious and interesting book." Rees explains in the introduction to his tale.
Apparently, he added to that.
.
By Ken Zurski
In September of 1977, British model and actress Twiggy appeared with Bing Crosby at the taping of the popular singer's annual Christmas special. That year, the family holiday staple was being filmed overseas because the 74-year-old Crosby happened to be in Great Britain at the time for a concert tour. Crosby recruited several British entertainers as guests on the special titled "Christmas in England." Twiggy was one.
Considered the "face of the 60's" with a rail thin figure, short hair and strikingly large eyes, the teenage Twiggy was arguably the most recognized model in the world. Now a decade later, and in her 20's, Twiggy was a multi-talented performer who picked up two Golden Globes for her work in The Boy Friend, a movie based on a musical set in the 1920's about a theater group in England whose stage manager Polly (played by Twiggy) gets her big break when the leading lady literally "breaks a leg."
In the Christmas special, Twiggy and Crosby sing a tender version of "Have Yourself a Merry Little Christmas." Twiggy is refined, relaxed and clearly star struck. Crosby takes the lead on the song but the two trade verses and sing portions of the chorus together. Twiggy also appears in a sketch with Crosby and British actor Ron Moody, best known for his role as Fagin in the movie Oliver.
When the show was broadcast later that year, viewers watched with a heavy heart.  Only a month after filming, in October, Crosby died from an apparent heart attack. The posthumously aired British-themed Christmas special would be his last.
In retrospect, Twiggy's duet with Crosby is a bittersweet rendition of a spirited holiday standard, done with class and professionalism, a trademark of Crosby with any singer. But it's forgotten today. However, another well-known British star – and an even more unlikely choice than Twiggy – would make a mark on the show that would last for years to come.
Glam rocker David Bowie initially turned down the request to be a guest because he didn't like the song choice: "The Little Drummer Boy." He eventually agreed to appear after Crosby's musical arrangers wrote a new part of the song for him to sing, titled "Peace on Earth," which he liked.
Peace on Earth, can it be
Years from now, perhaps we'll see
See the day of glory
See the day, when men of good will
Live in peace, live in peace again
The two voices soared together. "Ah, that's a pretty thing, isn't it?" Crosby said after they finished the song.
Today it's considered a holiday classic.
By Ken Zurski
Theodor Seuss Geisel, better known as Dr. Seuss, wrote dozens of children's books that still today reach best seller's lists and thrill a new generation of fans each and every year. His work, however, as a songwriter is not as celebrated.  But when reminded, the songs penned by Seuss are just as enduring and whimsical as his books.
Of course, Seuss did not write the music, only the words, so his credit is in the lyrics. He wrote the tunes mostly for television specials and all with Seuss's clever wordplay and sing-song rhyme pattern.  For instance, in  The Cat in the Hat, a television short released in 1970, and based on his first children's book, Geisel wrote several original songs including the bouncy, "The Moss Covered Three-Headed Family Gradunza"
There's a gradunza-snitcher in the house. Things will never be the same without it. How dear to my heart was that beautiful gradunza. That my old feline father bequeathed to me. That old family gradunza, The old, three-handled family gradunza, The old, moss-covered, three-handled family gradunza. That hung on the family tree. I've been burgled–thwertled by a fish.The old, moss-covered, three-handled family gradunza
The catchy "Cat, Hat:"
Cat, hat, in French, chat, chapeau. In Spanish, el gato in a sombrero. He's a cat in a hat, he's a chat in a chapeau. 
He also is a gato in a sombrero. 
Ole, Ole, Ole, Ole-o.
And the playfully teasing, "Calculatus Eliminatus:"
When you mislaid a certain something, keep your cool and don't get hot. Calculatus Eliminatus is the best friend that you've got. Calculatus Eliminatus always helps an awful lot. The way to find a missing something is to find out where it's not.
One song in particular, "I'm a Punk," introduced such ridiculously pleasing locutions as crontunculous, gropulous, poobler, and schnunk.
While everyone understands the meaning of punk, being a "schnunk" needed some explanation.  But when the Cat sings, "nobody, likes me, not one tiny hunk," everyone gets the idea.
Seuss's writing style is often credited to a Life magazine article in 1956 that criticized children's reading levels, specifically "primers" or textbooks with simplified words and phrases, like "Dick and Jane."  Geisel was asked to write a story using a vocabulary list of just over 200 words.  He picked the first two words that rhymed, cat and hat, and went from there. It certainly wasn't like any story in a textbook, that's for sure, and critics praised "The Cat in the Hat" for its originality.
Several years later when Seuss wrote the lyrics for songs in his television specials, he seemed to relish the opportunity to ratchet up the silliness even more. Seuss's words just seemed to work with music, oftentimes using traditional melodies, sometimes with an original score. The man credited with composing or arranging most of the music for Seuss is Dean Elliott, a Midwesterner from Wisconsin, who conducted orchestras for the Tom and Jerry shorts before hooking up with Seuss. Later he worked with Bugs Bunny creator Chuck Jones.
Seuss's most popular song is one we hear every year around the holidays. In it, an unmissable deep voice groans about a Grinch who has a "heart full of unwashed socks" and a "soul full of gunk."
Written in 1966 for the TV special "How the Grinch Stole Christmas," Seuss enlisted a voice actor named Thurl Ravenscroft to sing the lead on the song even though Boris Karloff was the voice of the Grinch in the special.
Karloff reportedly could not sing and Ravenscroft was hired . But Ravencroft's name was never listed among the credits and Karloff mistakenly got most of the acclaim.  Seuss was reportedly furious and apologized for the oversight. Ravenscroft was also the voice of Kellogg's Tony the Tiger ("They're Great!").
"You're a Mean One, Mr. Grinch," is an unconventional Christmastime staple.  The song never mentions Christmas, but rather teases with crafty metaphors, comparisons and contradictions all designed to point out what an awful crank the Grinch – now a symbol of holiday grumpiness – can be.
You're a mean one Mr. Grinch

You really are a heel.

You're as cuddly as a cactus,

And as charming as an eel,

Mr. Grinch!
The song is instantly recognizable, charming and vintage Dr. Seuss.  The songwriter.
By Ken Zurski
Perry Como may be the most popular Christmas performer of all time. Thanks to his long-standing annual holiday television specials and beloved Christmas album released in 1968, Como's face and voice became synonymous with the sounds of the season.
Today, however, in a more crowded market for Christmas music and numerous more versions of favorite holiday classics (and new ones too) from more contemporary artists in all genres, Como's versions might get lost in the mix.
But it's still in there.
That said, as a performer, he may have been misunderstood as well.
Como was considered one of the "good guys" whose relaxed and laid-back demeanor came across as "lazy" to some, a misguided assessment, since Como was known to be a consummate professional who practiced and rehearsed incessantly.
"No performer in our memory rehearses his music with more careful dedication than Como." a music critic once enthused.
Como also made sure each concert met his own personal and strict moral standards.
In November 1970, Como hosted a concert in Las Vegas, a comeback of sorts for the Christmas crooner, who hadn't played a Vegas night club for over three decades.  For his grand return, Como was paid a whopping $125-thousand a week, admittedly a large sum for a Vegas act at the time.  Even Perry was surprised. "It's more money than my father ever made in a lifetime," he remarked.
But since it was Vegas and befitting the desert town's reputation of gambling and prostituition,  Como's reputation as a straight-laced performer was questioned.
Como quelled any concerns, however, when he chose a safe, clean and relatively unknown English comic named Billy Baxter to warm up the audience before the show. Advisers suggested he pick an act more familiar to Vegas audiences, but Como said no.
A typical "Vegas comedian," as he put it, was simply too dirty.
Keeping up the family friendly atmosphere accentuated in his TV specials, Como would lovingly introduced his wife Roselle during the "live" shows. Roselle, who was usually backstage and acknowledged the appreciative crowds, was just as adamant as her husband that his clean-cut image went untarnished. After one performance, Roselle received a fan's note that pleased her immensely. "Not one smutty part, not even a hint," the note read describing Como's act in Vegas. "You should be very proud."
Como's cool temperament and sleepy manner was such a recognizable and enduring characteristic that many had to ask if it was real or just an act. Does he ever get upset? was one curious inquiry. "Perry has a temper," his orchestra leader Mitchell Ayers answered. "He loses his temper at normal things. When were' driving, for instance, and somebody cuts him off he really lets the offender have it." However, Ayers added, "Como is the most charming gentleman I've ever met."
Como's popular Christmas television specials ran for 46 consecutive years ending in 1994, seven years before his death from symptoms of Alzheimer's in 2001. He was 88.
(Source: Spartanburg Herald-Journal Nov 21 1970)
By Ken Zurski
Frank "Ping" Bodie, an Italian-American major league baseball player, once said that he could out eat anyone especially when it came to his favorite dish, pasta. So on April 3 1919, in Florida during a spring training break, Bodie and an ostrich (yes, an ostrich) went head-to-head in an all out, no holds barred, eating contest.
Or did they?  That's left for history to decide.
But it makes for a great story.
As a ballplayer and an outfielder, Bodie was a serviceable player, but a bit of an instigator. He was always up for a good argument and couldn't help talking up his own merits.  "I could whale the old apple and smack the old onion," he said about his batting prowess. While playing for a lowly Philadelphia A's ball club, Bodie claimed there were only two things in the city worth seeing, himself, of course,  and the Liberty Bell.
I can "hemstitch the spheroid," he boasted, apparently talking about the ball.
Despite being a a bit of a braggart, the player's loved Bodie's positive attitude. But his expressive candor clashed with  managers and he was traded to several teams before ending up with the New York Yankees where his road mate was the irrepressible Babe Ruth. When a reporter asked Bodie what it was like to room with baseball's larger-than-life boozer, Bodie had the perfect answer. "I room with his suitcase," he said.
Bodie was born Francesco Stephano (anglicized to Frank Stephen) Pezzello, but most people knew him by his more baseball player sounding nickname, Ping. He claimed "Ping" was from a cousin although many wished to believe it was after the sound of the ball hitting his bat.  Bodie was the name of a bustling California silver mining town that his father and uncle lived for a time.
Bodie's reputation as a big-time eater preceded him.
While in Jacksonville, Florida for spring training, the co-owner of the Yankees, Col T.L "Cap" Huston, heard about an ostrich at the local zoo named Percy who had an insatiable appetite. Huston told Bodie and the challenge was on. Whether it actually happened as reported however is up for debate. The accounts are so wildly embellished that the truth is muddled.
But who was questioning?
Fearing backlash from animal lovers (even those who loved ostrich's, it seemed), the match was held at a secret location. Bodie reportedly won the contest, but only after Percy, who barely finished an eleventh plate, staggered off and died. Ostrich's eat a lot, but Percy's untimely demise was attributed to inadvertently swallowing the timekeeper's watch. He expired with "sides swelled and bloodshot eyes." one writer related.
For anyone who believed it that, the rest of the story was easy to digest. Bodie finished a twelfth plate of pasta and claimed the self-appointed title of "spaghetti eating champion of the world.".
The next day, Bodie was in the newspaper for serving up a double play ball in the eighth inning and helping rival Brooklyn Dodgers secure a "slaughter" of the Yankees, 11-2.
There was no mention of the dead bird.
By Ken Zurski
In the fall of 1927, Ruth Elder, a dental assistant from Lakeland, Florida, attempted to become the first woman to complete a transatlantic flight from New York to Paris. "When [Charles] Lindbergh reached Paris (in May)," the 23-year-old Elder said announcing her intentions, "I made up my mind that I would be the first woman to make the trip."
But unlike Lindy, who was an experienced pilot, Elder admitted having little acquaintance with airplanes.  She was however an aspiring model and actress and if the flight helped her career, she exclaimed, so be it.
As expected, Elder's daring-do was met with skepticism, even ridicule. "Men in the summer should strive to equal Lindbergh. Women should stay at home," The Irish News snidely advised. Even Lindbergh, himself, without naming names, warned against dangerous missions without purpose.
Despite this, Elder had no reservations.  "I was determined to go as a co-pilot, not a passenger," she vowed. In Florida, she took lessons from an instructor named George Haldeman. Then on Tuesday, October 11, 1927, Elder and Haldeman took off from New York's Roosevelt Field in a specially built Stinson 'Detroiter' monoplane named American Girl.
Unlike Lindbergh, who became internationally famous after his successful flight, Elder's popularity began the moment she announced her plan. Pretty with an infectious smile and a personality to match , Elder's story and picture plastered the papers. Brightly colored scarfs she wore in her hair were mimicked by young girls who called them "Ruth Ribbons."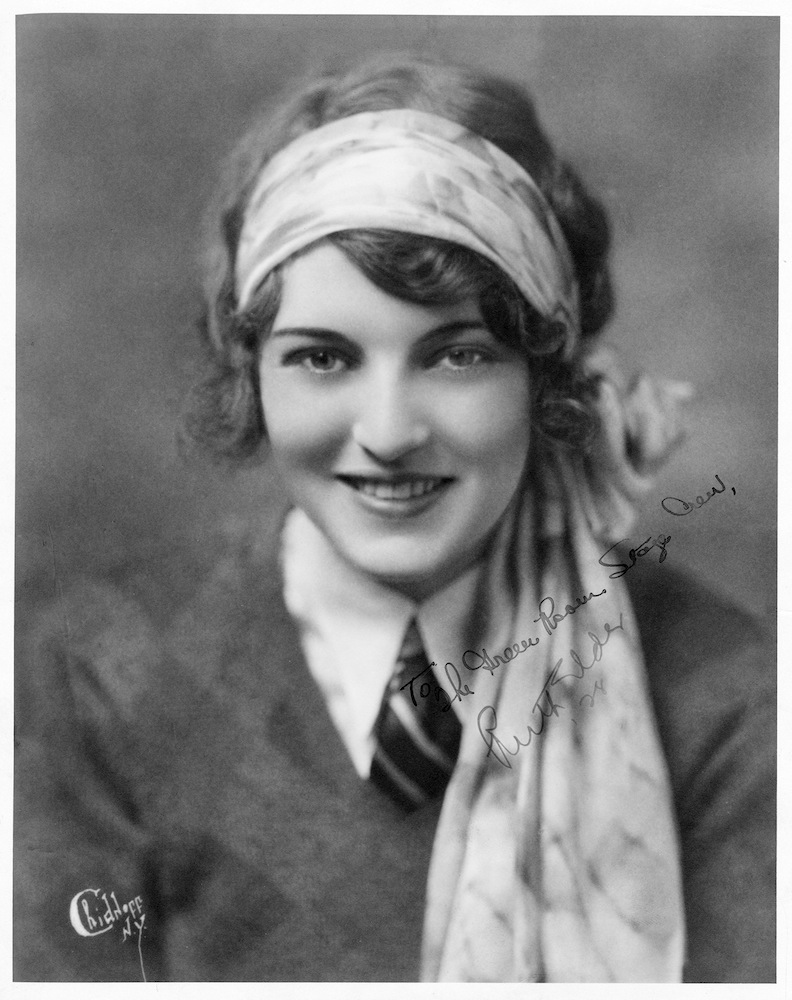 To a hungry press she was also a willing participant.  The instant hero Lindbergh was a challenge: shy, a bit aloof, and often irritated by all the attention. Elder relished it. She just hadn't accomplished anything yet.  On that October day at Roosevelt Field, the press was there to watch her give it a go.
"Well here goes nothing, that may turn up something," Elder thought to herself as the "American Girl's" wheels lifted from the ground.
Thirty six hours later, with over 2,000 miles logged and just a few hours short of Paris, the flight was over.
Caught in a sleet storm and taking on ice, the two pilots ditched the reserve fuel to lighten the load. But when an oil pipe busted, there was no other choice. The ocean would be their landing strip.
Around the same time, in Paris, at the Le Bouget airport, a smattering of press and a few well-wishers gathered for the welcoming party. Elder's plane was late and her fate, sent by dispatches around the world, was unknown. "Last seen 500 out at sea," the stories read.
The American Girl was missing.
In the Atlantic, however, Captain Goos of the Dutch tanker Barendrecht noticed a plane in distress: "She came rapidly up to us and flying over the ship threw down two messages." One ended up on the deck.  "How far are we from land and which way?" was the inscription. It was signed: Ruth Elder.
Several minutes later, the plane landed in the water next to the ship.
Soon enough the press got a telegram:  "We are safe," it read.
(The following is is a excerpt from PEORIA STORIES Tales from the Illinois Heartland – "A Motor Bug's Delight." by Ken Zurski)
On June 7, 1906 William S. Gehr of Wenatchee, Washington, his wife, Emma, and their dog, Snip, along with friends William Edward Camfield, wife Nellie, and 8-year-old sonWilliam Jr., boarded a Model E Glide for a cross-country jaunt from Wenatchee, about a hundred miles east of Seattle to New York City. "This is not a speed record," Mr. Gehr proclaimed. "It's a recreation trip." But as the papers quickly noted, it was the first transcontinental attempt that included several women, a child, and a family pet.
Mr. Gehr was right.  The family had no intention of making any time constraints. They casually made their way across country, camping, fishing, hunting, and generally enjoying the great outdoors. If there was a breakdown, they would stop and enjoy the apparent respite, oftentimes staying put for several days just for rest and relaxation. Eventually, the papers caught on. This was no race; this was a vacation—the first family road trip.
On October 13, after spending nearly four full months on the road, the two families rolled into Peoria, Illinois, "tanned to a ripe berry color and with clothes and features coated with Illinois dust," the Peoria Herald-Transcript reported.
Illinois was certainly on the route, but Peoria was special for another reason. It was home to the Glide. Peanut roaster turned car maker, Jay Bartholomew didn't let the opportunity slip by. He formally greeted the families in Princeville and escorted them to Peoria. "The travel-worn machine demonstrated its friskiness in covering the twenty-five miles to Peoria in a trifle over an hour," the papers praised. When they arrived in front of the Bartholomew Glide factory, they were greeted by a large crowd and a rousing applause.
"A spade projected from the pile of baggage on the back of the machine, a tire worn until the canvas projected in a fringe; a deep dent in the radiator screen made by a forest stump, and a water line near the top of the tonneau…told some of the trials endured by the travelers."
Mr. Gehr was an animated interview. While traveling in South Dakota, he told reporters, torrential downpours turned the road into an impossible "morass of gumbo." They waited in the comfort of hotels until the weather cleared. Before that, in Yellowstone, a bear snatched their morning bacon. "The only adventure with wild animals," Gehr explained. And in Montana, a group of Indians near the Flathead River laughed at their predicaments at first but eventually used their saddle horses to extricate the vehicle's wheels from a deep hole. Then a farmer lent them a cowhide to patch a flat.
In Iowa, Gehr concluded, the travel was "fine," hampered only by a stiff wind in Davenport that caused a brief delay.
Despite their weariness, the two families were clearly in good spirits. "We have enjoyed the trip immensely," said Mrs. Gehr. "The hardships were only part of the journey and we enjoyed them as they came." Even Gehr's "handsome" Pointer, Snip, got a mention: "She (Snip) rode the entire trip in the front of the auto, acting as guard at night and made herself useful generally…proud of her position as if she was a full licensed chauffeur."
The families were expected to stay in Peoria only a few days, but that turned into a full week before they set off again. The ambitious plan was to go to New York and complete the west-to-east journey, then travel to Washington, D.C., and south to Florida. Later, they would go to Mexico, taking their leisurely time along the way. But Bartholomew had other ideas for his now nationally recognized endurance machine.
A large auto tradeshow was coming up in New York City, and Bartholomew wanted the Gehr's' Glide to be a prominent feature. Whether the rich entrepreneur paid the families or just used his power of persuasion is not known. The Gehrs apparently agreed to the proposal, although it clearly meant big changes in their schedule. Now they had a deadline to meet. The big auto show was in December.
For the first time in their long journey, the Gehrs were in a hurry.
On November 23, the two families drove into Linesville, Pennsylvania, an impressive feat for sure, but still some 400 miles from their destination. Just five days later, on the 28th, the Glide made it to New York City, but the Gehrs did not. For reasons only explained by their obvious intent to get the vehicle to New York City within days, the roadster was loaded onto a railcar and shipped to the Big Apple instead. The Grand Central Palace Auto Show opened on December 1. They never would have made it on time. When the Glide arrived in New York City, Bartholomew never let on.  He had his showcase vehicle on display and the Gehr's bold American road trip was over. Even the New York Times was duped. "While automobiles have previously crossed the continent," the paper gushed, "this is the first time that the journey had been successfully accomplished by a regular touring car carrying its full compliments."  The paper also pointed out that it was the first time the journey had been completed by women as passengers, two in fact, or three if you count the dog. Later, Emma Gehr's journal would confirm any suspicions. They never made it all the way to New York, she stated, which would have truly constituted a transcontinental trip.