Uncategorized
By Ken Zurski
Seven years before President John F. Kennedy announced intentions to put a man on the moon, Walt Disney, in his own magical way, was doing just that. Not physically of course, but imaginatively.
Disney-style.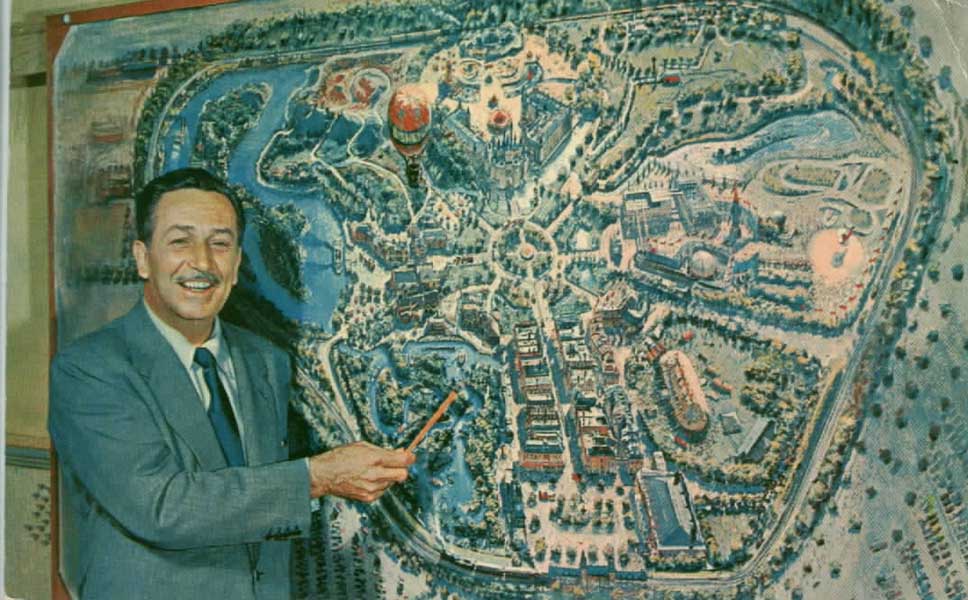 It started in July of 1955, when Disney's visionary theme park Disneyland opened in Anaheim, California. Inside an area dubbed "Tomorrowland" was an 80-foot rocket named the "Moonliner." It's purpose was for show, but it's intent was far-reaching. This was "tomorrow's" transport and the goal: space travel.
The exhibit was sponsored by Trans World Airline (TWA) with a promise that the air carrier "would send passengers to the moon in 30 years" [That would be 1985 back then]. Rocketing along at flight speeds of 172 mph, TWA claimed the trip would take about eight hours. Next to the rocket was a multi-sphere building and a sign that read: "Rocket to the Moon."
At the base of the rocket was an explanation: "Stabilized in flight by gyroscopes, it would be controlled by automatic pilots and magnetic tapes. Landing tail-first, no air-foils or wings would be necessary, its vertical descent controlled by its jets. The 3 retractable landing legs would be equipped with shock absorbers. Launching and landing would be done over a "firing center" to confine and lead off the superheated exhaust gases."
Inside "Rocket to the Moon," thanks to a projection screen both on the ceiling and on the floor, park guests could experience this flight themselves – or at least a simulation of it. "You don't actually land on the Moon, but you get to fly around the back side of the Moon," was the ride's description. "Along the way, you learn interesting facts about the Moon and the planets. Soon you're heading back to Earth. After your craft turns around, you see your destination on the floor screen. Prepare to land." The total duration of the ride was about ten minutes.
Disney himself explained it this way: "Kids and grown-ups too can take a trip to the moon from here. Well, at least they can board a passenger rocket and have all the thrills of such a trip – and in accord with the latest scientific theories on interplanetary travel."
Yes, "scientific theories," is how Disney put it in 1955.
He added: "Timid souls who don't care to risk outer space can peer at the U.S. from an inner space, man-made satellite orbiting 500 Disney miles above the earth."
In 1961, TWA dropped its sponsorship and Douglas Aircraft took over the"Moonliner." The rocket was repainted to represent Douglas Aircraft's color and brand. It lasted until 1966, when it was shut down and the building demolished. By this time the prospects of a moon flight was in reach. "We choose to go to the moon in this decade and do the other things," President Kennedy famously said in September of 1962, "not because they are easy, but because they are hard."
In 1967, the ride was rebuilt, adding more amphitheater rooms and more seating. A pre-show lobby was redesigned and featured the park's animatronic figures. Gone was the "Moonliner" rocket, or as one Disney historian described: "It had been scrapped."
The exhibit was given a new name: "Mission to the Moon."
Then in July 1969, millions of Americans watched as a man walked on the moon. "One small step for man, one giant leap for mankind," astronaut Neil Armstrong proudly proclaimed upon making the first footprint. Suddenly, Disney's futuristic moon ride was no longer "tomorrow's" fantasy.
"First Think. Second, dream. Third, believe. And finally, dare," Disney once said, although he wouldn't live long enough to witness man's first flight to the lunar surface. He died in 1966 at the age of 65.
The ride stayed open through all six manned Apollo Missions. Finally, in 1975, the name changed again. This time passengers were still going into space, but now they would travel further than the moon and certainly farther than any man so far.
"Mission to Mars" opened in March of 1975.
The ride closed for good in 1992.
By Ken Zurski
In 1976, a controversial new book was released that contended the Apollo 11 moon mission never happened. We Never Went to the Moon: America's Thirty Million Dollar Swindle was written by Bill Kaysing, a Navy midshipman and rocket specialist, who claimed to have inside knowledge of a government conspiracy to fake the moon landing.
Kaysing believes NASA couldn't safely put a man on the moon by the end of the 1960's (a promise made by President Kennedy) so they staged it instead. Kaysing's theories were technical and persuasive and soon a movement of nonbelievers, inspired by the book, was born.
Whether you believed Kaysing or not was a moot point for American screenwriter and director Peter Hyams.  A former TV news anchor, Hyams was more interested in how such a thing could actually be pulled off?
"I grew up in the generation where my parents basically believed if it was in the newspaper it was true," Hyams said in an interview with a film trade magazine.  For him, he admits, it was the same with television. "I wondered what would happen if someone faked a whole story."
So he wrote a story based on the concept.
That was in 1972, four years before Kaysing's book was released. Hyams shopped the script around but got no takers.  Then something unexpected happened. Watergate broke and America was thrown into a government scandal at its highest levels. Interest in a story like a fake moon landing (in the movie's case, the first manned mission to Mars) had appeal. In 1976, Hyams was given the green light to make his movie as part of deal with ITC Entertainment to produce films with a conspiracy bent.
"Capricorn One" was released in the Summer of 1977. "Would you be shocked to find out the greatest moment of our recent history may not have happened at all?" the movie posters read.
Reviews were mixed. Chicago Tribune film critic Gene Siskel called it "a surprisingly good thriller" while another critic Harry Themal said it was a "somewhat feeble effort at an adventure film." Variety was even less complimentary calling it "underdeveloped" and the cast "scattershot."
In the movie, Sam Waterston, James Brolin and O.J. Simpson play the three astronauts. Elliott Gould, Hal Holbrook, Telly Savalas, Brenda Vaccaro and Karen Black round out the cast. While Brolin was known mostly for his television role as Dr, Steven Kiley on Marcus Welby, M.D. Simpson was a celebrity athlete whose acting career was just beginning.
In hindsight the cast was impressive, but the actors weren't as important as the story.
After the landing is staged and broadcast as real, the nation is told the three astronauts died instantly in a failed reentry.  But Gould, as journalist Robert Caulfield, is suspicious. The astronauts, who are harbored, realize they have no recourse but to escape or be killed. "If we go along with you and lie our asses off, the world of truth and ideals is, er, protected," say's Waterston's Lt Col. Peter Willis. "But if we don't want to take part in some giant rip-off of yours then somehow or other we're managing to ruin the country."
From there its a cat and mouse game between the good guys and bad. A dramatic helicopter chase scene ensues. In the end, Caulfield with the help from Brolin's character exposes the conspiracy.
The movie's tag-line accentuated the drama:
The mission was a sham. The murders were real.
"In a successful movie, the audience, almost before they see it, know they're going to like it," remarked Hyams. "I remember standing in the back of the theater and crying because I knew that something had changed in my life."
The film's final chase scenes were pure escapism. "People were clapping and cheering at the end," Brolin relayed to a reporter shortly after the film's release.
Today, the film's legacy may be in the conspiracy only.  It's impact may also have been diminished by the negative attitudes towards O.J. Simpson who in 1994 was charged and acquitted in the brutal murder of his ex-wife, Nicole Brown.
Even Hyams concedes to his own bizarre trivia: "I've made films with two leading men who were subsequently tried for the first degree murder of their wives," he said referring to Simpson in Capricorn One and Robert Blake in his first film Busting (1974).  
Fifty years later, on the 2019 anniversary date of July 20, 1969, the moon landing is still celebrated as one of man's greatest achievements. "We choose to go to the Moon in this decade and do the other things, not because they are easy, but because they are hard," President Kennedy prophetically said in 1962.
For some, apparently, that was just too hard to believe.
Several years after it happened, a movie showed how it could be done…Hollywood style.
By Ken Zurski
In August 1919, at Saratoga Race Course in upstate New York, a horse named Upset shockingly defeated heavy favorite Man o' War in the Sanford Memorial. It was as they say, a race for the ages, not just because Upset won, but because Man o' War lost.
It's easy to see why everyone was so surprised. The great Man o' War, nicknamed "Big Red," was undefeated and dominated nearly every race he entered. "A wonder horse" according to one newspaper writer. Others called him a "speed miracle" and in class and stature: "peerless."
And then came the Sanford.
A record crowd of 20-thousand witnessed the race, which turned into a thrilling stretch duel between three horses.  "On the last part of the turn into the stretch, Man o' War took third position, about two lengths back of Upset," the New York Times noted.  The horse in the lead was a speedster named Golden Broom.
It got even more exciting from there. "A few strides down the stretch Golden Broom suddenly gave up, and Upset ran past him. In another instant Man o' War had dashed by his chestnut rival and it became a question whether Upset could last to win."
He did.
While the finish was dramatic enough, let's backtrack to the start of the race where no gate was used as it is today. Horses just waited at a tape line for a signal. Man o' War was reportedly backing up when the other horses took off. He was "almost left at the post," according to the Louisville Courier-Journal.
Man o' War made a mad dash for home, but according to the Times had too many obstacles to overcome: "What made the race of Man o' War so impressive was the fact that he came from so far behind and that also he conceded fifteen pounds to Upset."
And who was Upset?
As it turned out, Upset was a pretty good race horse. In his last race, the prestigious Travers Stakes, also at Saratoga, Upset finished second.  But against Man o' War, as in six previous races with the great stallion, Upset was, as was as every other horse in the field, a big loser.
So while not the longest shot in the Sanford, Upset did go off at 8-1 odds. By today's standard, that's called an overlay (higher than expected odds) for a horse that ran well in previous races. But against Man o' 'War, a big favorite, it was quite the opposite.
After all, who would be foolish enough to bet against "Big Red"?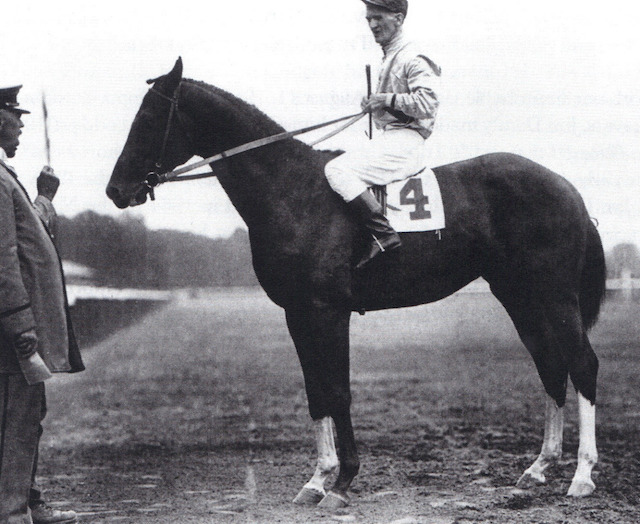 Upset, the horse, was named after the word's official definition of "disappointment" or "worry."  Today, the use of the word in context is often attributed – perhaps unfairly – to the 1919 race and horse.
Some historians argue the use of the word in horse racing dates back to 1877 and the 1919 race and Upset's victory is inconsequential. Regardless, the sports world adopted the word to describe a team or individual whose victory is unexpected, especially against a formidable opponent. 
As for Man o' War, while his unblemished record was forever tarnished ("It was a crime he was beaten," the New York Herald blared), he still goes down as one of the greatest race horses of all time.
Although the owners of Upset had no idea their horse would be remembered in such a way, the name choice seemed to follow a pattern. Apparently they liked horses with negative connotations, including Upset's stable mate, the Kentucky Derby winning filly named Regret.
They say there is a healing power in laughter, so I always go well supplied with jokes. And I've discovered that are men our pretty quick with a joke themselves – Bob Hope
By Ken Zurski
In the book On Desperate Ground, a retelling of the troubled Korean War's Chosin Reservoir Campaign, author Hampton Sides deftly and brilliantly chronicles the officers and soldiers who fought a perilous and ultimately hopeless battle.
Rough terrain, freezing conditions and poor decision making were the Americans undoing, Sides surmises, but the soldiers, especially the brave Marines somehow prevailed by sheer ingenuity and determination. Their reasoning for retreating, if you can call it that, was resolute: to live to fight another day rather than sit and be slaughtered. Losses were already great.
The enemy seemed to be on a suicide mission to keep the Marines from reaching Pyongyang, something General Douglas MacArthur thought they would do with ease. But that was against only North Korean forces. When the Chinese joined the fight, their sheer size alone pinned the Americans into a corner, a trap without an escape hatch. The Korean winter was another matter. Frostbite took soldiers toes and fingers and weapons wouldn't fire. Eventually, an impossible rescue mission was devised to retrieve the trapped and wounded soldiers.
It was just the start of the Korean conflict, but as Sides writes, it was the war's "greatest battle."
The brave Marines in this case, the First Marine Division, a body of 20-thousand strong, were certainly the last to leave the Chosin Reservoir. But unlike the classic Marine Corp motto that a Marine is always "the first to arrive and the last leave," in this instance, which Sides touches on in the book, they were not the first to arrive.
It wasn't their fault.
On September 15, 1950, after a successful water landing at a South Korean seawall, the Marines quickly secured the occupied town of Inchon. It was a commanding early victory for the Americans and one General MacArthur took credit for. Then as Sides so painstakingly points out, the general got greedy. He wanted to work his way inland and claim the whole peninsula for the Americans and its allies.
North Korea and its communist leader would be quickly overrun, he predicted.
He ordered his field generals, Edward Almond and Oliver P. Smith to lead the charge. The plan: Marines would enter North Korean territory by sea, leaving Inchon and sailing down the Yellow Sea to a landing in a port city known as Wonsan. The first to arrive! From there they would convoy by vehicle and foot to the capital city.
But not everything went as planned. The transport ships had to stop short of the coast. An intelligence report arrived that the North Koreans along with the Russians had mined the waters off Wonsan. "Eventually the word shifted through the ranks," Sides writes. The Marines would have to remain out to sea, stalled, while minesweepers cleared the coastline.
The reports were accurate. Thousands of mines were planted and the excavation was long, arduous and costly (two American minesweepers lost their lives). The Marines in the transports could do nothing but wait. Bobbing in circles, and bucked by waves which never seemed to subside, morale waned, food rations ran short, and the ships began to reek of sweat. "Never did time die a harder death," one disparate soldier explained. "And never did the grumblers have so much to grouse about,"
Then even more bad news, especially to a proud Marine.
Wonsan was already occupied by Republic of South Korea forces who worked overland from Seoul. Nearby an air field was established allowing American forces, both Marine specialists and the U.S Army X-Corps, to be flown in instead. "We had the word that the beach had been secured, but we came in fully loaded and ready to fight if necessary," said Marine Joe Lieutenant Joe Owen to Stars and Stripes in 2011. "Then we saw the flyboys standing on the beach waving us in."
Before the Marines arrived, however, Wonsan was deemed secure enough to fly in the USO show featuring popular comedian Bob Hope and actress Marilyn Maxwell. Hope had done the same for troop units in World War II. This was his first visit to Korea. "I hate war with all my guts," Hope would later say about his USO tours, "but I admire the guys with guts enough to fight them when they have to be fought."
In Wonsan, while flying overhead, Hope spotted the armada of stalled transport ships. In his usual deadpan style, he joked about beating the leathernecks to shore. "Boy are we going to have a big show tonight," he quipped. "I want you guys to back me up at all my landings."
A bit of levity before the nightmare campaign would begin.
By Ken Zurski
In addition to his celebrated showy attributes and unabashed self-promotion, P.T. Barnum kept a meticulous daily schedule.
Every day before leaving his lavish home in Fairfield, Connecticut, after a sip of hot chocolate and a roll, Barnum would make a "to-do" list right down to where and what he would eat that day and when he would take a stroll in the garden.
One day, Barnum wrote on his "to-do" list: "drop Charity [his wife] off at the dress maker."
When Barnum returned home that day, his daughter asked, "Where is mother?"
Barnum thought for a moment then realized he had dropped his wife off as scheduled, but did not return to pick her up because he had not put it on the list.
He immediately called for a carriage to retrieve her.
She was "exceedingly angry," Barnum explained.
By Ken Zurski
In 1965, while traveling by taxi over the Golden Gate bridge in San Francisco, television producer Lee Mendelson heard a single version of "Cast Your Fate to the Wind," a Grammy Award winning jazz song written and composed by a local musician named Vince Guaraldi.
Mendelson liked what he heard and contacted the jazz columnist for the San Francisco Chronicle.
Put me in touch with Guaraldi, he asked.
Vince Guaraldi was a jazz pianist, born in 1928 in San Francisco to a musical family which included an uncle, Muzzy Marcellino, a singer known for his whistling. After serving a stint as a cook in the Korean War, Guaraldi returned to his studies as a musician and composer, contributing to several bands and projects in the Bay area.
He wrote and recorded his first original piece in 1953. Then in the 1960's, Guaraldi, who was the conductor and composer of the Eucharist chorus in San Francisco, released several recordings of waltzes and jazz pieces including an original piece titled "Cast Your Fate to the Wind."
That's when a certain aforementioned TV producer heard the song while stuck in traffic on the Golden Gate Bridge.
Mendelson called Guaraldi.
He asked the composer to score a planned documentary of Charlie Brown, an idea Mendelson had after producing a successful documentary of San Fransico Giants baseball slugger Willie Mays. "Why not do a documentary on one of the worst baseball players," Mendelson proposed to Peanuts creator Charles Schultz.
Schultz liked the idea, and gave the project a green light. Guaraldi enthusiastically agreed to come up with something musical for the documentary.  Several weeks later, Mendelson received a call. It was Guaraldi who performed a version of "Linus and Lucy" to Mendelson over the phone.
When the documentary idea was scrapped, Mendelson picked the song and Guaraldi's music to accompany a new Charlie Brown Christmas special to air on television in 1965.
It was, as they say, a perfect fit. But it wasn't an easy sell. Network executives didn't like the special at first viewing and thought the jazzy score was odd and that people wouldn't get it.
Regardless, the program aired as scheduled and became so popular that it was included each and every Christmas after that and quickly became the holiday television institution it is to this day.
Over the next 10 years, Guaraldi would score 17 "Peanuts" television specials, plus the feature film "A Boy Named Charlie Brown." In 1976, while on tour and resting in between sets at a club in Menlo Park California, Guaraldi collapsed and died from an apparent aortic aneurysm. He was 47.
"It was totally unexpected, " said Mendelson. "He was so young."
During the funeral service, "Peanuts" music was played over the church's sound system.
Although Guaraldi was working on another "Peanuts" special at the time of his death, his first score, "A Charlie Brown Christmas," is still his most famous and most popular work.
The soundtrack released shortly after the special in 1965 and reissued in several formats since, remains one of the top selling Christmas albums of all-time.  
By Ken Zurski
In November 1939 Philip Van Doren Stern, an American author, editor and Civil War historian wrote an original story titled "The Greatest Gift" a heartwarming Christmas tale about a man named George Pratt who gets a dying wish granted that literally changes his life.
Stern's story begins on a Christmas Eve night as a despondent George leans over the rail of an iron railroad bridge. He contemplates jumping into the river below:
"I wouldn't do that if I were you," a quiet voice beside him
said.

George turned resentfully to a little man he had never seen
before. He was stout, well past middle age, and his round
cheeks were pink in the winter air as though they had just been
shaved. "Wouldn't do what?" George asked sullenly.


"What you were thinking of doing."


"How do you know what I was thinking?"


"Oh, we make it our business to know a lot of things," the
stranger said easily.
George tells the man that he wishes he was never born. The man tells George his wish is granted. "You've never been born," he says.
"The Stranger," as he is called, then tells George to pose as a door-to-door brush salesman to avoid any confusion with people he knows well, but who now have no idea who he is.
When George confronts his wife Mary, she's married with a child, a son, who pretends to shoot George with a toy gun. "You're dead," the boy tells him. Dejected, George offers her a complementary brush and leaves.
George goes back to the bridge to confront "the stranger" and demands an explanation. "You already had the greatest gift of all," the stranger explains, "the gift of life." George begs for his old life back and returns home to Mary. There he finds the brush he gave her.
Stern desperately tried to get his little story published, but it never sold. So in 1943, he made it into a Christmas card book and mailed 200 copies to family and friends.
The card book and story somehow caught the attention of RKO Pictures producer David Hempstead who showed it to actor Cary Grant's agent.
In April 1944, RKO bought the rights but failed to create a satisfactory script.
Grant went on to make another Christmas movie "The Bishop's Wife."
However, another acclaimed Hollywood heavyweight, Frank Capra, who already had three Best Directing Oscars to his name, liked the idea. RKO was happy to unload the rights.
"The story itself is slight, in the sense, it's short," Capri said referring to Stern's book. "But not slight in content."
Capra bought it and brought in a slew of writers to polish and stretch Stern's book into a full length feature film. They hired another a well-known actor James Stewart to play the main character, now renamed George Bailey. "The Stranger" in the book became a guardian angel named Clarence. And while the rest of the film is mostly a screenwriter's version, the story of George saving his little brother from a drowning incident was included from the book.
In December of 1946, seven years after Stern wrote the original story, "It's a Wonderful Life" was released in theaters.
The global library catalog
World Cat
categorizes UNREMEMBERED under these three Genre/Forms:
"True adventure stories. biography and anecdotes."
Ask your local library to get it …give the book title and the author. Available on Ingram, Baker & Taylor and Amazon http://a.co/d/iteJoll
"UNREMEMBERED: Tales of the Nearly Famous and the Not Quite Forgotten"
Ken Zurski, author of The Wreck of the Columbia and Peoria Stories, provides a fascinating collection of once famous people and events that are now all but forgotten by time. Using a backdrop of schemes and discoveries, adventures and tragedies, Zurski weaves these figures and the events that shaped them into a narrative that reveals history's many coincidences, connections, and correlations.
We tumble over Niagara Falls in a barrel, soar on the first transcontinental machine-powered flight, and founder aboard a burning steamboat. From an adventurous young woman circumnavigating the globe to a self-absorbed eccentric running for President of the United States, Unremembered brings back these lost stories and souls for a new generation to discover.
FEATURING
John Alcock
Nellie Bly
Isambard K. Brunel
Samuel Cunard
Nathaniel Currier
Annie Edson Taylor
Ruth Elder
William Harnden
Father Louis Hennepin
Dorothy Kilgallen
Samuel Langley
Bobby Leach
John Ledyard
Thomas Moran
Catherine O'Leary
William B. Ogden
Fanny Palmer
Sam Patch
Rembrandt Peale
Cal Rodgers
Amos Root
Janet Scudder
George Francis Train
Cornelius Vanderbilt
Arthur Whitten Brown
John Wise
Victoria Woodhull
By Ken Zurski
As rock n roll trivia goes this one is divine…
It begins when a rock singer named Ian Gillan joined an emerging progressive music group called Deep Purple.  Gillan, who to this point was a journeyman vocalist for other bands, had no idea where his rock swagger might take him.
To the very top it would seem.
It was the summer of 1969 and Deep Purple was on the charts with the trippy hit "Hush."
Hush, hush
I thought I heard her calling my name now
Hush, hush
She broke my heart but I love her just the same now
While the single's success was welcoming, the band members were looking to add a harder edge to their sound and in turn find a more permanent lead singer. Gillan's vocal range fit right in. The English-born Gillan had fronted a few groups, wrote some songs, but none failed to ignite. The Deep Purple gig was a godsend…literally.
That's because also paying attention to the band's progress were a gaggle of theater producers who were looking to put on a musical based on the life and crucifixion of Jesus Christ. They were searching for a singer with a strong vocal range who could handle the demands of the rock tinged, almost heavy metal like passages, in the score. If all went as planned, an album would likely be followed by a theatrical version, and possibly a movie.
The musical's composer Andrew Lloyd Webber had previously attended a Deep Purple concert (without Gillan) and was unimpressed. Once Gillan was on board, however, Webber gave the band's manager another call. "The moment I heard Ian's primal scream was the moment I found my Jesus,"  Webber would later remark in his 2018 memoir, Unmasked.
Gillan recorded the album under the watchful eye – and ear, in this case –  of Webber and lyricist Tim Rice. Gillan's version of "Gethsemane" was a highlight for Webber who called the singer's vocals "extraordinary."
As a concept album and rock opera "Jesus Christ Superstar" was a huge hit. Gillan was slated  for an arena tour and ultimately considered to reprise his studio role on Broadway, but rock n roll intervened. His commitment to Deep Purple came first and in 1973 in casting for the movie version, Gillan who was top on the director's list, refused the role due to salary demands and conflicts with the band's touring schedule.
Jeff Fenholt eventually took on the role of Jesus for the first arena tour and Ted Neeley in the movie.
Gillan likely had no regrets about his decision. After a successful stint with the band including several radio singles like "Smoke on the Water" and "Woman from Tokyo," Gillan left Deep Purple in 1973, later fronted Black Sabbath for spell and eventually returned to Deep Purple in the 90's.
Gillan would never reprise the role of "Jesus."